<Pre-Order>EIBOS 3D Filament Dryer Polyphemus
Regular price

$149.99

Sale price

$129.99
Data Sheet

Temperature Range: 30-70℃
Spool Size: Double Spool ø210*80mm, Single Spool ø210*170mm, Add expansion parts: ø250*170mm
Applicable Filament: PLA, ABS, PA, PC, PETG, ASA, PVA, PP, M1, M2, M3
Setting Time: 30mins-24H or Unlimited
Humidity Range: 10%-99%
Rated Power: 130W
Filament Outer Holes: 8
Desiccant Tank: 2
Power Loss Memory: Yes
Exhaust Vent: Adjustable and can be closed.
Pre-Order rules

The MSRP for Polyphemus would be 139.99USD (3KG extension part not included)
All pre-orders will receive 3KG extension parts for free.
SEB refers to 'Super Early Bird Price' and EB refers to Early Bird. There won't be any difference regarding to the product and package content expect the price.
SEB Price 99.99USD limited quantity.
Followed with EB Price, ending at 20th Nov 2023.
Shipping starts from mid Dec. Orders after 6th Nov will be shipped early Jan 2024
We will ship through overseas warehouses (USA, CZ, CA, AU) to areas where logistics can be reached, and other areas will be shipped directly from China.
If there are any other questions, or any information would like to know, feel free to send us an email to support@eibos3d.com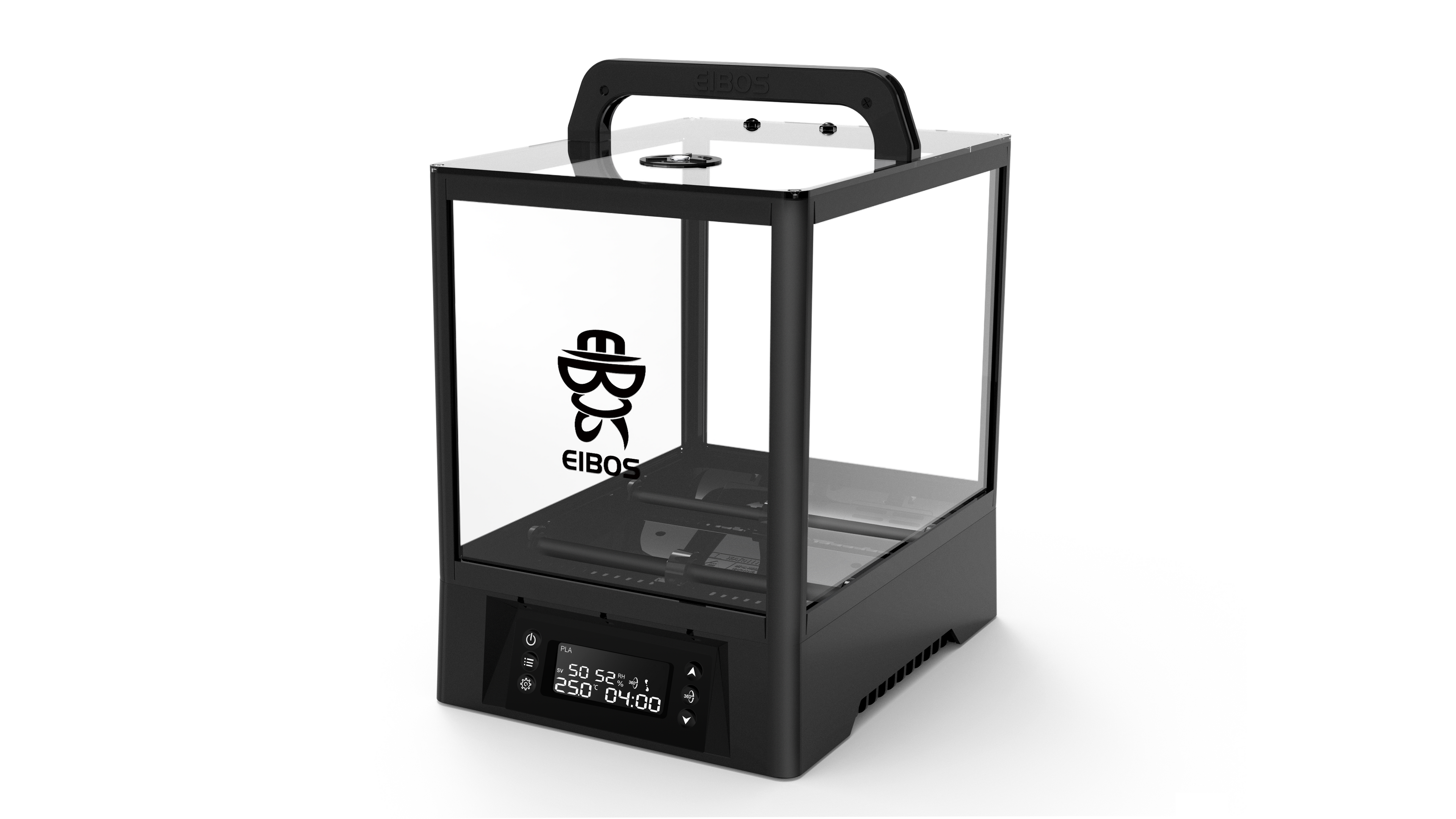 EIBOS Design
We are EIBOS, a start up 3D printing company, was founded in 2020. Just like our name EIBOS, we believe in structure, experiments, and data. We hope that through our research and exploration we can create products that can truly help users. This is our original intention, and we have never changed this view and attitude.
As the first 3D printing filament dryer manufacturer on the market to use PTC as the heating element, we have collected a large amount of information and data on filament drying and drying equipment, which also includes our analysis of user usage. After nearly a year and a half of development and testing, we are here to officially launch our new generation of filament dryer:
'Polyphemus'
We believe that the next generation of drying machines should have these key elements:
Directly blowing hot air from the heating element onto the filament may result in excessively high temperatures and uneven heating. Polyphemus addresses this concern by incorporating multiple hot air outlets, ensuring that the hot air does not directly blow onto the filament.
Although Polyphemus has multiple air outlets, there may still be uneven heating between the top and bottom of the drying chamber. To address this, we have added a rotating motor. You can easily activate the rotation function with a single button, truly achieving 360° automatic rotating heating.
Regular Heating VS Rotating Heating
For Regular Heating, there is a temperature difference of 36℃ between the spool near the heating port and the spool far from the heating port. Othe other hand, for Rotating Heating, the temperature difference between different direction is only 1℃.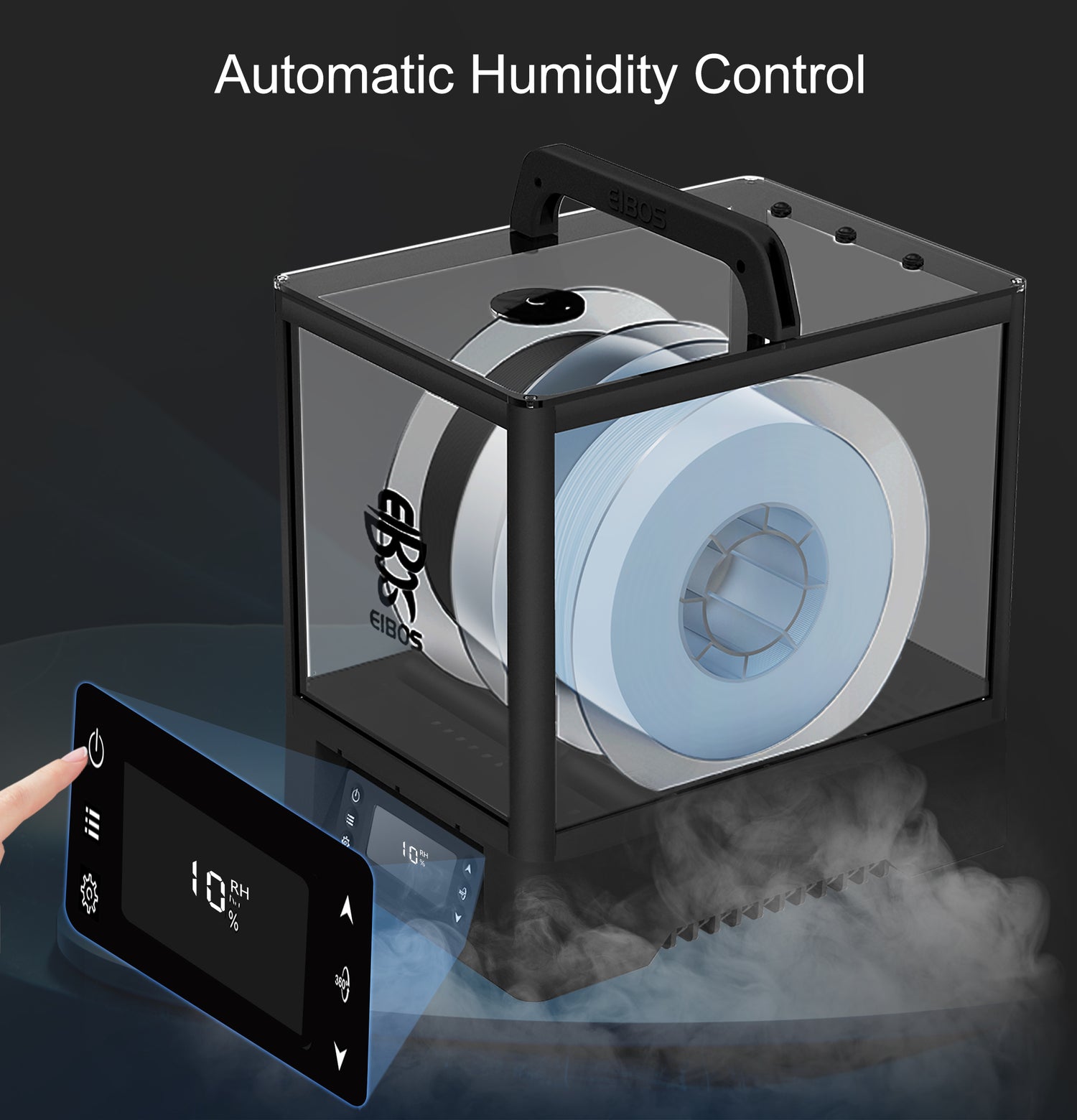 Automatic Humidity Control Function
When heating is not required, you can activate the humidity mode and freely set the desired humidity level. The system will automatically activate the heating to regulate the internal humidity according to the set value. This ensures that the filament is always ready for printing.
In order to make Polyphemus more convenience to use, it has features an adjustable exhaust vent located on the top of the lid. When heating is not required, you can close the exhaust vent to control the internal humidity and temperature. This helps maintain the desired environmental conditions while avoiding excessive drying.
Furthermore, POLYPHEMUS provides a dedicated compartment where you can place desiccants. The desiccants absorb moisture from the air, further ensuring a dry environment for the filament. You can choose suitable desiccants and replace them in a timely manner based on their lifespan.
The combination of these features enhances the operational flexibility and filament protection capabilities of POLYPHEMUS, enabling you to achieve optimal drying results.
To facilitate easy connection to the 3D printer, Polyphemus is equipped with a total of 5 filament outlets on the front and back. These outlets allow you to connect the filament to the printer without the need for additional piercing or modifications. Even if the filament is already connected to the printer, you can directly place it inside the drying chamber of Polyphemus. Additionally, there are 3 wire outlets on the top of Polyphemus, allowing you the flexibility to position the wires in any desired direction.The handle on the top of Polyphemus allows you to easily open the top cover.

After installing the 3KG expansion part, Polyphemus expands from its original 210mm diameter to accommodate a larger 250mm diameter. This increase in size allows for the capacity to hold up to 3kg of filament.